BATTERY CHARGER 6A 24V
WHC-6A24V
Battery Charger 6A for 24VDC lead acid battery from small vehicle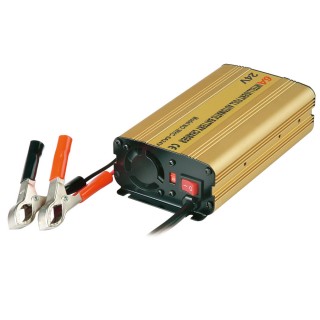 Automatic Battery Charger WHC-6A24V (WHC-6A24V)
Description
Fully charges, then maintains batteries, it will not overcharge the battery, thus increases battery's life expectancy, three LEDs indicate charging status. Multiple protection mechanisms. Dimensions:175x97x49mm, unit weight as 0.8 kgs
Further Info.
Target customers are mainly manufacturer, distributor, wholesaler, and importers. MOQ is 500 PCS.
Wenchi also have brand new, innovative DC to DC 30A, 60A charger coming out this year! Please contact us to know more!
Features
Short-circuit Protection
Over voltage Protection
Over temperature
Reverse Polarity Protection
3A ± 5% / 1.5A ± 5% selectable
On/off switch
Approval for E-mark/CE certified
Applications
Cars, caravans, jet skis, motorcycle, morotbike, smartphone, tracker, truck, outdoor products, marine equipments and systems
Specification
MODEL NO.
WHC-6A24V
Kind of battery
Unsealed or maintenance-free lead-acid battery
Voltage of battery
24Vdc
AC input
Range
100Vac/220Vac ± 10% selectable
Frequency
47~63 Hz
DC Input
Float voltage
27.6 ± 0.2Vdc
Bulk voltage
29.0 ± 0.2Vdc
Bulk current
6A ± 5% / 3A ± 5% selectable
Protections
Out shorted
Polarity inversion
Current limit
Over temp.
Cooling fan
Unit temp.
< 60°C
Dimensions(L×W×H)
175 × 97 × 49mm
Net weight
0.8kgs
TAG: 6A24V Automatic Battery Charger,
Contact WENCHI to Get a Quotation Now!