PSW SERIES: LCD SMART PURE SINE WAVE INVERTER
PSW intelligent pure sine wave inverter 12VDC-220VAC with power saving mode and re-setting functions on detachable LCD display
WINVPA/WINVPB PSW series Detachable LCD Smart pure sine wave inverters are covered screws design gives these PSW series pure sine wave inverters a cleaner look and smoother touch. Pioneer engineering design that enable user to freely switch between different modes by LCD switch panel, the mothodically outlined housing inlusation dispatches unwanted heat.

User-friendly inspiring microchip controlled technology includes power saving mode, plus optional AC transfer and LCD screen control that is not service just as a monitor, but is able to re/set the inverter's values based on user's desire; to enhance operating experience, they are easily carried. LCD display board, AC transfer switch, and current sensor kits purchase in addtion.
12V: WINVPA 600W/1000W/2000W/3000W
24V: WINVPB 1000W/2000W
All units have Power Saving mode, some models provide two specs in 12V and 24V, additional LCD frame kit and current sensor kit, or protective covers are optional purchase. Detachable LCD Display/Remote mounting is for WINVPA/WINVPB 1000W/2000W/3000W models; LCD display for the WINVPA 600W requires installation on the wall. Extra dual-battery system can be installed to enhance the inverter running time as well. Display to indicate the battery's remaining volume in hours based on the current load.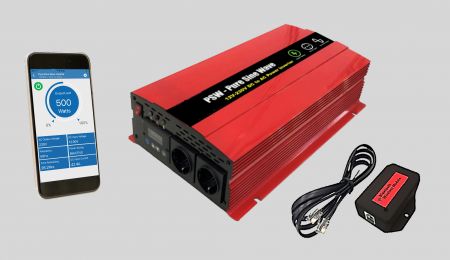 Smart Pure Sine Wave inverter with Detachable LCD & App & Bluetooth dongle wireless module
More
---
---
---