4 in1 Battery Charger (30A12V / 30A24V / 25A36V / 15A48V)
4 in 1 Battery Charger (30A12V / 30A24V / 25A36V / 15A48V)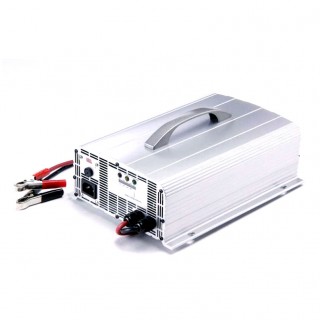 4 in1 Battery Charger (30A12V / 30A24V / 25A36V / 15A48V)
There is a switcher in panel. You can switch 100V ( 90-130 Vac ) or 220V (200-240 Vac), an isolation transformer the primary and secondary of the transformer is isolated. 12V when one Led lighting up, 24V when two Led lighting up, 36V when three Led lighting up, 48V when four Led lighting up, When it is charging, it doesn't effect your configure if you touch voltage selecting key. Please be relieved. When flat green lights is lighting up, it means battery is full of charge. You can end charging or keep it going on floating status. Please do plug out AC cord then plug out DC output cord if you need to end charging.
Features
Isolation system
Soft-start to reduce in-rush current
Output short circuit protection
Maximum current restriction
Minimum output ripple current
Minimum standby current
Over-voltage protection
Thermal fan auto speed control
Approval for E-mark/CE certified
Applications
Application :Boat , Cars, Carvan, Jetsky, Motorcycle, Smartphone, Tracker, Marine
Input Voltag
100V / 220V,
2 Step Switch ( 90 ~ 130Vac / 200 ~ 240Vac )
Input Frequency
50/ 60Hz
Current (Without Load)
< 0.1A
Maximum Output Current
< 15A ( under )
Maximum Efficiency in Maxi. Power
> 80% ( above )
Output Voltage
12V
24V
36V
48V
Maximum Ampere Imax
30A
30A
25A
15A
Maximum Output Charging Power
450W
900W
1000W
900W
Average Charging Voltage (Vblk)
14.7V
29.4V
44.1V
58.8V
Floating Charging Voltage (Vflt)
13.33V
26.6V
39.9V
53.2V
Protection Function
Short Circuit Protection
Reverse Connection Protection
Over Thermal Protection
Voltage / Current Precision
< 5%
The Longest Floating Charging Time
No Limitation
Operating Ambiance Thermo
In Full Load : -20 ~ 60°C
Operating Ambiance Humidity
Maximum 95% RV , Not Condensing
Cool System
Automatic adjust Fan according to inner thermo
Average Thermo in Housing
< 70°C
Dimensions
300 x 223 x 101 mm Maximum
Weight
4.5 Kg
TAG: 4 in 1 Automatic Battery Charger,
Contact WENCHI to Get a Quotation Now!