1700W MODIFIED SINE WAVE POWER INVERTER
WHS-1700W
1700W Modified Sine Wave DC to AC Power Inverter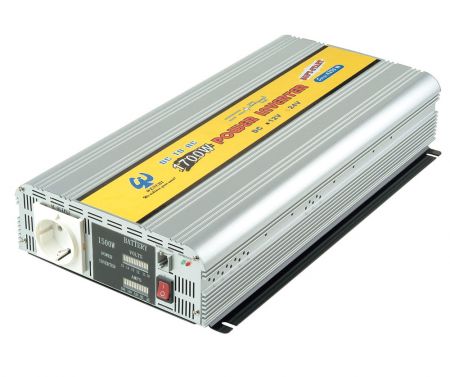 Modified Sine Wave Power Inverter 1700W (WHS-1700W)
Description
Produce a square wave which more closely to sine wave.
Your devices may be damaged or reduce life if they aren't powered by a pure sine wave, even may hear buzz, or inverter may get hotter.
The unit cost is less expensive than a pure sine wave inverter.
Aluminium casing as always.
Application :TV's, radios and lights.
Features
Made in Taiwan (R.O.C)
1700 Watt continuous power
3400 Watt Peak Power
thermal + overload protection
battery-low / high shutdown
2 AC receptacles
On/off switch
with soft-start
Cooling fan
AC output short circuit protection
Green LED on front panel to confirm power on
Red LED on front panel to warn of a faulty condition
Approval for E-mark/CE certified
Applications
Cars, caravans, motorhome, marine equipments and systems
Specification
MODEL NO.
WHS-1700W
Power(W)
1700W
DC input voltage
12Vdc
24Vdc
Output power continuous
1700W
Output power surge
4250W
AC output voltage
100 /110 or 220/230/240 Vac
Regulation(±10%)
±10%
±10%
Output waveform
Modified sine wave
DC input voltage
10-15Vdc
20-30Vdc
Frequency(±2Hz)
50 or 55 or 60Hz
Efficiency
85% ↑
85% ↑
No load current draw
< 1.2A
< 0.6A
Thermal protection
60 ± 10°C
60 ± 10°C
Cooling fan
Yes
Yes
Short protection
Yes
Yes
Soft - Start
Yes
Yes
Overload protection
Yes
Yes
High battery shutdown
15 ± 1Vdc
30 ± 1.5Vdc
Low battery shutdown
10.5 ± 0.5Vdc
21 ± 1Vdc
Battery low shutdown
10 ± 0.5Vdc
20 ± 1Vdc
Battery polarity reverse(by fuse)
Yes
Yes
Fuse
40A * 6pc
20A * 6pc
Operating environment temperature
-15°C to +50°C
Dimensions(L×W×H)
441 x 225 x 78mm
Net weight
5400g
HI-POT
Yes
Yes
TAG: 1700W Modified sine wave power inverter, 1700W Square sine wave inverter, 1700W Modified sine wave car inverter, 1700W DC to AC modified sine wave inverter. 1700W DC/AC modified sine wave inverter.,
Contact WENCHI to Get a Quotation Now!