150W MODIFIED SINE WAVE POWER INVERTER
WHS-150W
150W Modified Sine Wave DC to AC Power Inverter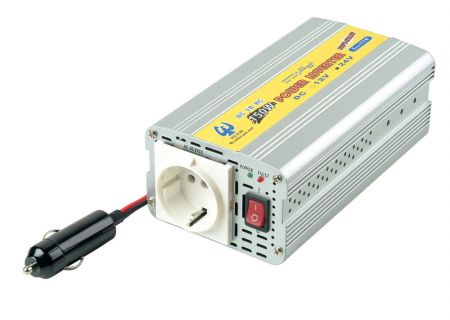 Modified Sine Wave Power Inverter 150W (WHS-150W)
Description
Produce a square wave which more closely to sine wave. 110Vac or 220Vac are all available.
Your devices may be damaged or reduced life if they aren't powered by a pure sine wave, even may hear buzz, or inverter may get hotter.
The unit cost is less expensive than a pure sine wave inverter.
*New mode-MSW series-only 220 Vac is available. unit with 0.5A USB*
Aluminium casing as always.
Application :TV's, radios and lights.
Features
Made in Taiwan (R.O.C)
150 Watt continuous power
300 Watt peak power
Green LED on front panel to confirm power on
Red LED on front panel to warn of a faulty condition
On/off switch
Thermal + overload protection
AC output short circuit protection
with soft-start
battery-low / high shutdown
Approval for E-mark/CE certified
Applications
Cars, caravans, jet skis, minicamper
Specification
MODEL NO.
WHS-150W
Power(W)
150W
DC input voltage
12Vdc
24Vdc
Output power continuous
150W
Output power surge
375W
AC output voltage
100 /110 or 220/230/240 Vac
Regulation(±10%)
±10%
±10%
Output waveform
Modified sine wave
DC input voltage
10-15Vdc
20-30Vdc
Frequency(±2Hz)
50 or 55 or 60Hz
Efficiency
85% ↑
85% ↑
No load current draw
< 0.3A
< 0.25A
Thermal protection
60 ± 10°C
60 ± 10°C
Cooling fan
No
No
Short protection
Yes
Yes
Soft - Start
Yes
Yes
Overload protection
Yes
Yes
High battery shutdown
15 ± 1Vdc
30 ± 1.5Vdc
Low battery shutdown
10.5 ± 0.5Vdc
21 ± 1Vdc
Battery low shutdown
10 ± 0.5Vdc
20 ± 1Vdc
Battery polarity reverse(by fuse)
Yes
Yes
Fuse
20A * 1pc
10A * 1pc
Operating environment temperature
-15°C to +50°C
Dimensions(L×W×H)
192 × 95.6 × 64.53mm
Net weight
834g
HI-POT
Yes
Yes
TAG: 150W Modified sine wave power inverter, 150W Square sine wave inverter, 150W Modified sine wave car inverter, 150W DC to AC modified sine wave inverter. 150W DC/AC modified sine wave inverter.,
Contact WENCHI to Get a Quotation Now!