1500W PURE SINE WAVE POWER INVERTER 12V/24V DC to 115V/230V AC
INT-1500W
Off-grid 1500W True Sine Wave Power Inverter 12V/24V DC to 115V/230V AC, with 12V optional AC transfer switch and/or power saving mode
CE certified. Optional AC transfer switch to work between two sources, also Remote control and power saving mode are optional. MOQ 100-500 PCS. Lead-time 60 days. GFCI is optional.
Description
Wenchi's INT-1500W prue sine wave inverter is an accountable device to provide clear power to consumer electronics products. USB port and AC transfer switch can be added on. Converts 12Vdc/24Vdc battery power to 100Vac, 110Vac, 220Vac, 230Vac and 240Vac. Input voltage rating is 10~ 16.5Vdc/ 20~ 23Vdc at full load and room temperature 25°C. Input Nulllast- bzw. Leerlaufstrom is 1.0A maximum at 12Vdc/24Vdc. Peak (Surge) power is 3000Watt. AC Frequency Output: 50Hz or 60Hz. Efficiency level is 85% to 90%. Fuses are replaceable. Thermischer Schutz: 60±10℃, 2 x AC outlet / VDE Schuko (Optional). Output fully isolation design.
 
Do not produce electrical noise, will not damage your applications. Aluminum alloy casing in silver with editable labels. If you would like to choose ABS and other colour for the outer casing, we offer too when the order reaches our MOQ.
 
When the output load is over (105% to 110%), the inverter will shut down to avoid damage (At room temperature 25°C). An alarm buzzer will sound when the input voltage is over 16.5V±1.0Vdc, the inverter will shut down to protect the battery and prevent damage to the plugged device. Battery low alarm will sound at 10.5±0.5Vdc and shutdown at 10.0±0.5Vdc. Green LED on front panel to confirm power on, red LED on front panel to warn of a faulty condition, yellow LED lights up when over temperature occurs. Shutdown will occur when the temperature inside the inverter reaches 60 ± 10℃. Mostly suitable for distributors, importers, wholesalers, and manufacturers.
With AC transfer switch model, swtiching a load between AC or DC sources is applicable. AC transfer time<0.1 second.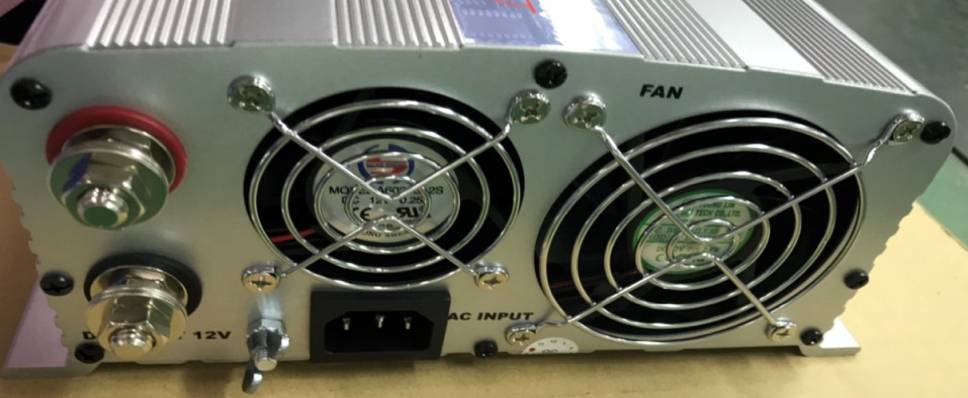 Features
Made in Taiwan(R.O.C)
1500 Watt continuous power, 3000 Watt Peak Power
Over Temperature protection
Overload protection
Short-Circuit protection
Over Voltage protection
Battery-low alarm/high shutdown
The efficiency is <85% at 12Vdc input and full load.
On/off switch with soft-start
Cooling fan: Fan force cooling
TC fan start temp.(SENSOR): 40℃±5℃
AC output fully isolation design.
LEDs display
AC transfer time<0.1s
Approval for E-mark/CE certified
1 year warranty
Bewerbungen
TVs, lamps, power tools, battery charger, stereo amplifier, fax machine, pump, drill, media equipment, vehicle, caravans, jet skis, camping car, outdoor products, marine equipments and systems
Specification
MODEL NO.
INT-1500W
Power(W)
1500W
Input Vdc
10-16Vdc
20-32Vdc
Battery Type
STD, AGM, GEL, LiFePO4, and Lithium-ion
Output Vac
100 / 110 / 115 / 120 / 220 / 230 / 240
Output frequency
50Hz or 60Hz
Output waveform
True sine wave
Nulllast- bzw. Leerlaufstrom
110V:<0.8A
220V:<1.3A
110V:<0.5A
220V:<0.7A
Standby current
<0.3mA
Efficiency
85% max.
Output voltage regulation
Vac + 2V ± 5%
Unterspannungswarunug
10.5 ± 0.5Vdc
21 ± 1Vdc
Unterspannungsabschaltung
10 ± 0.5Vdc
20 ± 1Vdc
High battery shutdown
15 ± 0.5Vdc
32 ± 1Vdc
Thermischer Schutz
60 + 10°C / 140 + 18°F
Cooling
Fan
Protections
Unterspannungswarunug
Unterspannungsabschaltung
High battery shutdown
Input polarity protection (by fuse)
Overload protection
Thermischer Schutz
Out short circuit protection (by electronic circuit)
Fuse
35A * 2pc
20A * 6pc
Dimensions(LxWxH)
420 x 223 x 103mm
Net weight
6.2 kgs
HI-POT
Yes
Yes
Specification may subject to change without notice, please contact us for further details should you have questions.
Related Products

---

Files Download

---
Tag
1500W off-grid pure sine inverter
1500W pure sine wave power inverter
1500W true sine wave power inverter
1500W DC/AC True sine wave power inverter
1500W DC to AC pure sine wave power inverter.
---
Neue Produkte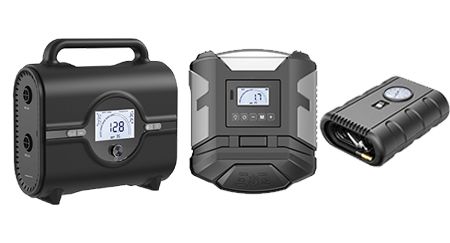 LCD/Digital Rapid Advanced Tyre Inflator with Battery
For both recreational and professional inflation purpose.
Weiterlesen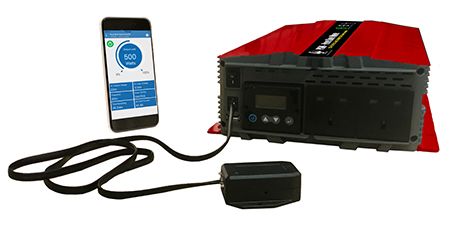 PSW LCD Pure Sine Wave Power Inverter with APP
Power saving mode, optional LCD display, AC transfer switch, etc. Well tried-and-tested devices perfectly designed for all vehicles. Can now download our App to use,...
Weiterlesen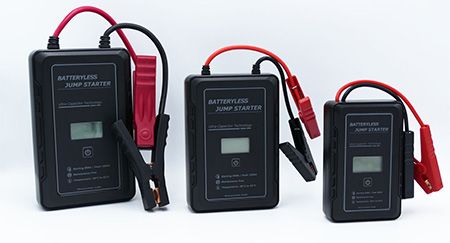 NEW LCD SUPERKONDENSATOR STARTHILFEGERÄT & Battery Charger 2 in 1
Battery-free, maintenance-free, cold temperature endurance : 300A, 500A, 800A. 2 Mins Fast Charging, LCD Display
Weiterlesen