AUTOMATIC CAR BATTERY CHARGER 8A 12V 8A
WHSC-8A12V
7-stage Automatic Smart Charger 8A12V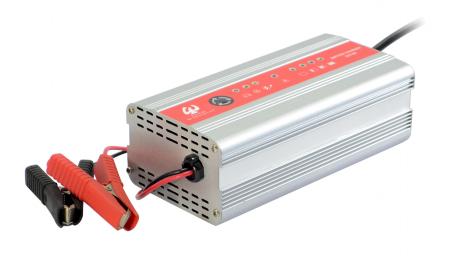 8A/12V Smart Charger (WHSC-8A12V)
Description
Intelligent switching charger 120W for Lead Acid, AGM, GEL and NiMH batteries. Intelligent charging in 8 steps, suitable for 20Ah to 160Ah batteries, 4-step indications that clearly show the charging status, short circuit / overload protected. 220 Vac is available.
Further Info.
Target customers are mainly manufacturer, distributor, wholesaler, and importers. MOQ is 500 PCS.
Wenchi also have brand new, innovative DC to DC 30A, 60A charger coming out this year! Please contact us to know more!
Feature
Anti Peak

Total protection of batteries and vehicle electronics even in the event of reversal of polarity.
Battery recharge without disconnecting from the vehicle.

Tester Inside

Fast battery test before charging.
Test at end of charging.

Regeneration

Prevents the start of sulphate: by sending a regeneration cycle to the battery before the start of charging

Automatic Adaptive Charger

No adjustment required: the charger adapts to the battery ensuring speed and quality.
Charges to 100% of capacity and recharges heavily discharged batteries.

Small Dimension

Reduce the volume with the same function.
Applications
Cars, caravans, jet skis, motorcycle, morotbike, smartphone, tracker, truck, outdoor products, marine equipments and systems
Specification
MODEL NO.
WHSC-8A12V
Kind of battery
Lead Acid, AGM, GEL and NiMH batteries
Battery Voltage
DC 12V+/-0.5Vc
AC input
Range
100Vac/230Vac ± 15% selectable
Frequency
47~63 Hz
DC output
Float voltage
14.4± 0.2Vdc
Bulk voltage
14.8 ± 0.2Vdc
Bulk current
8A ± 5%
End voltage/amp
14.4V/<1A
Protections
Out shorted
Polarity inversion
Current limit
Overload Shutdown
Cooling fan
Battery Capacity
20Ah to 160Ah
Effective power
120W
Dimensions
194mm*95.6mm*65mm
Weights
1,100g
Function
Battery tester
Power supply
Boost inside
TAG: 8A12V Automatic Battery Charger,
Contact WENCHI to Get a Quotation Now!