3000W PURE SINE WAVE POWER INVERTER
INT-3000W
3000W DC to AC True Sine Wave Power Inverter with Remote Control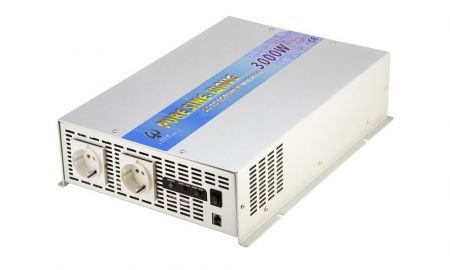 Pure Sine Wave Power Inverter 3000W (INT-3000W)
Description
Wenchi's 3000W pure sine wave power inverter can be wildly used in larger commercial vehicles such as bus, camping car, truck. Our 3000Watt True sine wave inverter can convert 12Vdc or 24Vdc battery power to 100Vac, 110Vac,  220Vac, 230Vac and 240Vac. Peak(Surge) power is 6000Watt. AC Frequency Output: 50Hz or 60Hz. 2 AC socket. Output fully isolation design. This 3000W pure sine wave inverter does not produce electrical noise, and will not damage your applications. Lead-time in general is 60 days. Aluminum alloy case in silver colours with refined surface.
Further Info.
Aluminum alloy case, the standard colour of case of our 3000W pure sine wave inverter is in silver, the colour of housing and material is customizable when the first official order reaches MOQ 100-300PCS. Standard housing is in square shaped, customize case are also feasible. Better for suitable for distributors, importers, wholesalers, and manufacturers.
Features
Made in Taiwan(R.O.C)
3000 Watt continuous power
6000 Watt Peak Power
Thermal protection : 60±10℃
Overload protection
Battery-low / high shutdown
High efficiency 85~90%
2 AC receptacles
On/off switch
With soft-start
Cooling fan
AC output short circuit protection
AC output fully isolation design.
Green LED on front panel to confirm power on
Red LED on front panel to warn of a faulty condition
Approval for E-mark/CE certified
Remote control is optional
Applications
Cars, caravans, camping bus, truck, tracker
Photos show an example of Wenchi's 3000W pure sine wave inverter installed in a bus
Specification
MODEL NO.
INT-3000W
Power(W)
3000W
Input Vdc
12Vdc
24Vdc
Output power continuous
3000w
AC output voltage
100 / 110 / 115 / 120 / 220 / 230 / 240
Regulation (±5%)
±5%
±5%
Output waveform
True sine wave
DC input voltage
10-15Vdc
20-30Vdc
Frequency (±2Hz)
50 or 55 or 60Hz
Efficiency
>85%
No load current draw
<1.5A
<1.0A
Thermal protection
60±10°C
60±10°C
Cooling fan
YES
YES
Short protection
YES
YES
Overload protection
YES
YES
Low battery alarm
10.5 ± 0.5Vdc
21 ±1Vdc
Low battery Shutdown
10 ± 0.5Vdc
20 ± 1Vdc
High battery shutdown
15 ± 0.5Vdc
32 ± 1Vdc
Battery polarity reverse (by fuse)
YES
YES
Fuse
40A * 8pcs
25A * 6pcs
Operating environment temperature
15°C to + 50°C
Dimensions (LxWxH)
480 x 289 x 100mm
Net weight
9500g
TAG: 3000W sine power, 3000W pure sine wave power inverter, 3000W true sine wave power inverter, 3000W DC/AC True sine wave power inverter, 3000W DC to AC pure sine wave power inverter.,
Contact WENCHI to Get a Quotation Now!