AUTOMATIC MULTI-STAGE BATTERY CHARGER
7-stage intelligent switching charger 60W/120W/450W for Lead Acid, AGM, GEL and NiMH batteries
Wench's Intelligent Charger has unique 7 charging modes, the Micro-control chip inside is perfectly designed to automatically calculate a battery's conditions, no need for unnecessary standing by while recharging a battery. CE approved.
Progressing in Just One Grasp
When think of a smart charger, many people might associate it with the 3 charging modes we normally see in the market: Bulk, Absorption, and Float charging, Wenchi's AUTOMATIC INTELLIGENT BATTERY CHARGERS have 7 charging modes— Smart boost, Desulphation, Bulk, Absorption, After-Charge, Battery-Testing, and Maintenance. Our chargers certainly demonstrate a better performance in comparsion to charge a AGM/gel/Lead-Acid battery. Currently, 220Vac (input) is available. The 2-in-1 model 15A30A for 12V/24V has auto detetive battery functions. And BOOST mode is for 8A12V and the 2-in-1 models only.
IP65 12V LCD Water Resistant with WINTER MODE
IP65 class water resistant material housing to prevent water splashing damage, LCD display borad indicates the status of the charger and the battery. It is designed to be used even during cold weather.
DC to DC 60A dual-battery system regulator for traditional 12V vehicle with boost charging function
More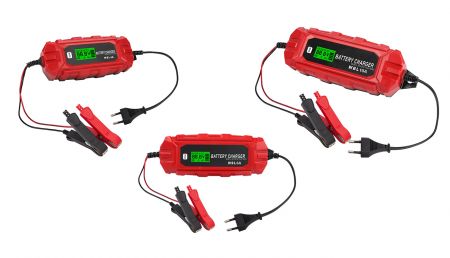 IP65 water resistant insulation class 12V LCD Smart Battery Charger, intelligent protecting functions including power supply and winter mode
More
---
WHSC-4A12V

---

Intelligent switching charger 60W for Lead Acid( AGM, GEL and NiMH) batteries. Intelligent charging in 7 steps, suitable for 3Ah to 80Ah batteries, 4-step indications clearly show the charging status, short circuit / overload protected. Multiple warning LED indications. 220 Vac is available. 2 year warranty

---

WHSC-8A12V

---

Intelligent switching charger 120W for Lead Acid( AGM, GEL and NiMH) batteries. Intelligent charging in 7 steps, suitable for 20Ah to 160Ah batteries, 4-step indications that clearly show the charging status. Multiple warning LED indications. 220 Vac is available. 2 year warranty.

---

WHSC-30A12V-15A24V (2 in 1)

---

Intelligent switching charger 450W for Lead Acid( AGM, GEL and NiMH) batteries. 7-step intelligent charging, suitable for 90Ah to 600Ah batteries, 4-stage indications that clearly show the charging status. Multiple warning LED indications. Automatically detects if the battery is 12V or 24V. 2 year warranty.

---
---
---